In today's technological landscape, many companies are turning to digital communication channels to respond to the growing expectations of increasingly connected users, who spend a large part of their time on the Internet.
We cannot deny the fact that customers have changed how they interact with companies and although today many choose to resolve their doubts and problems through chats, bots or email, there are already a relevant number of consumers who prefer the immediacy and the human interaction provided by the phone calls.
Thus, although alternative communication channels turn to be efficient, calls are already a very important business communication tool.
In this post we will explain why managing and effectively tracking your company's calls can help you generate more conversions.
Let's get started!
Telephone: Customer service channel par excellence
As we have mentioned in the previous point, nowadays, most organisations seek to acquire new customers through social media strategies and websites; however, we must not forget that telephone calls are still an important source of gaining potential customers.
Long and complex contracting processes, high-value product sales cycles, customized requests, problems resolution… these are just some of the situations in which it is essential for any user to immediately communicate with your company to express their doubts and concerns.
Compared to other alternative channels, such as chat or email, the phone contact facilitates a more personalised, fast, and direct attention, providing the perfect opportunity to offer positive experiences, showing at the same time the most human side of your business.
In addition, offering the appropriate solutions and answers in real time to comfort your customers will help you better understand their expectations, and create a personal bond that will improve your retention rate and increase your business opportunities.
In terms of technological progress, it is important to mention that the telephone communication has not lagged. There are currently, many complete solutions on the market that helps reduce costs and improve the quality of calls. Must be remarked as well, that virtual systems offer multiple and modern functionalities, which makes them a versatile and effective resource to effectively manage your company's calls.
As you can see, the telephone is a very effective communication channel when it comes to attracting and interacting with customers, so correctly attributing each call, using a call tracking software, is essential to properly measure the effectiveness of your marketing campaigns.
If you are interested in some examples of the Call Tracking achievements, please read on!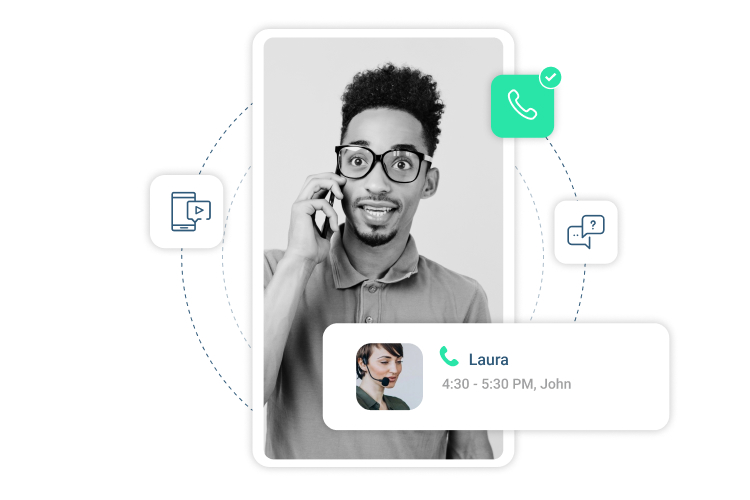 Call tracking: Essential for marketing and sales
Users who prefer to contact a business via telephone have a higher conversion rate than those who contact through other means. This is due to the speed and quality of the attention provided. For that reason, promoting telephone contact is one of the most effective ways of attracting consumers.
The main objective of Call Tracking is to measure the impact of campaigns in which customers convert over the phone, in order to know the real performance of each campaign to effectively calculate the ROI.
Thanks to this analytics system, you will have key information to optimise your marketing actions in real time, as you will know at any moment which channels, campaigns and keywords are working best to help you select the strategy you should invest more effort in.
To figure out if your marketing and sales objectives are being met, it is important to understand what kind of information Call Tracking provides, and which metrics will help you analyse the data obtained.
Find more about it!
What kind of information does Call Tracking provide?
Your business invests every day a lot of effort in marketing to be prominent in different channels and digital media. The problem arises when a customer calls your business to get information and solve their doubts before closing a purchase and you want to assign that conversion to a specific campaign.
Call tracking allows you to discover which traffic sources, paid publicity, keywords or advertising campaigns (both online and offline) are inspiring potential customers to contact your business.
Here are some Call Tracking's key elements, which will help you understand why it is so important and useful for any company:
#1. Static and dynamic numbering:
Static numbering is designed for offline channels, in which the telephone number display cannot be modified. Via static call tracking we will be able to count and correctly attribute each call, helping us to discover which is best system generating contacts.
Dynamic numbering is more suitable for online actions, as it will automatically change depending on the origin of the lead. It allows a detailed campaigns analysis, as well as the keywords and channels generating more calls.
#2. Call report:
As we have seen, by inserting different telephone numbers in a static or dynamic way, each and every one of the calls coming from your different marketing actions will not only be registered, but you will also be able to monitor them and obtain key information for the optimisation of your campaigns in real time.
With call tracking, you will obtain quantitative information, such as the number of answered and unanswered calls, and qualitative information, such as the origin of the campaign, the location of the call or the keywords that have generated more traffic.
#3. Call automation:
Some Call Tracking tools allow automated calls, facilitating the optimisation of the call centre resources.
#4. Call recording:
Call tracking systems allow you to record conversations with your customers in order to improve the quality of your service.
#5. Qualification:
Bearing in mind that when a customer call is because they are interested in your products or services, the information provided by the Call Tracking will be useful to optimise both your marketing campaigns and the correct calls management, offering a better customer service, in order to achieve a higher conversion rate.
#6. Call Routing:
The Call routing allows you to pass the customer calls to a specific queue based on pre-determined criteria, such as time, location or the most appropriate agent or department to handle the enquiry. This will ensure positive experiences for your contacts, increasing satisfaction and retention rates.
#7. International presence:
Having national and international numbers will allow you to have a worldwide presence giving the impression of proximity to customers wherever they are.
#8. Integrations:
The connection of the results obtained from Call Tracking, with the data collected in your digital marketing platforms, will allow you to manage a complete visibility of every conversion. This way you will obtain effective analytics that will help you optimise your marketing and sales strategies.
In short, the advanced functionalities provided by call tracking tools will help you to effectively measure your return on investment (ROI) but also allow you to monitor in real time different indicators, which are essential to optimise the performance of your call centre and ensure your company's competitiveness in the market.
Read on, and we will inform you about them!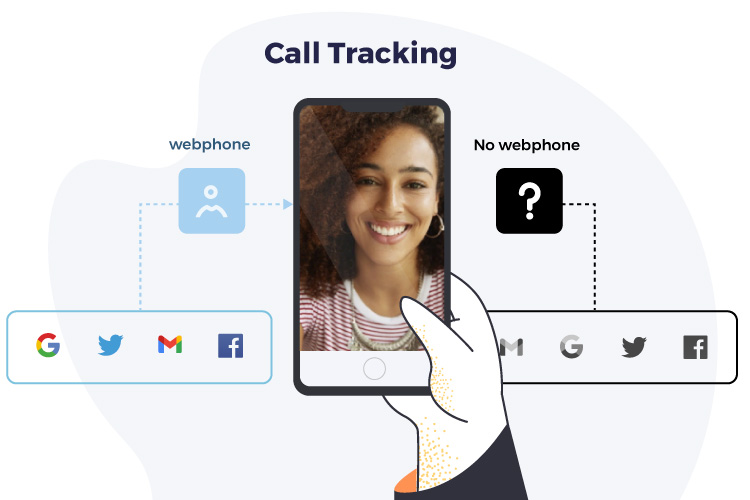 What problems can lead management solve?
Are you still wondering why good lead management is necessary?
Without good lead management, your company will face many exhausting challenges, especially if you are looking to boost your business:
Lack of visibility of leads:
When marketing and sales teams are not aligned, your potential customers are the ones who end up suffering the consequences of a bad buying experience.
While the marketing team should be responsible for generating quality leads, it is the sales team who must convert them into customers, so if there is no good communication, achieving the objectives will be much more difficult.
Aligning both areas will allow the teams involved to have a large volume of information, which will be translated into a management optimisation and a significant reduction in work hours.
Lack of information:
If you don't have the right automation tools to track the leads you capture, understanding where your prospects are in the sales funnel becomes an arduous and complicated task that will end up losing potential buyers.
Having the proper information you need to make the right decisions will help you optimise your marketing investment and improve the quality of your leads.
Poor quality leads:
If you don't have a solution that allows to enrich the profiles of your prospects in an automated way, to score them according to their behaviour and to nurture them efficiently, the result will be a loss of productivity for your sales agents, who will have to spend time on repetitive and useless tasks, such as updating databases, writing emails, following up or dealing with unqualified leads, while letting the rest slip through the cracks.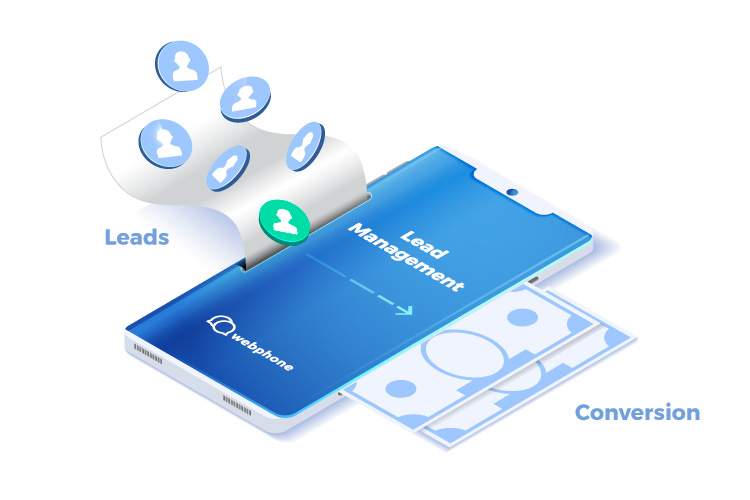 As we have seen, every call is an opportunity you shouldn't miss to get a conversion and to improve the image of your company.
Analysing the data obtained thanks to the Call Tracking will allow you to detect which strategies work best to guide your investment in the right way. This is translated not only into a higher profitability of your actions, but also into a better control of the different metrics and indicators, which are essential to ensure that your contact centre offers an efficient and quality service.
Webphone's Call Tracking Software offers you an efficient way to optimise your marketing efforts and increase your sales results, and its integration with the rest of your company's tools. This will consequently allow you to know the potential of the customers when they contact your company having a better advantage when implementing different actions focused on increasing the conversion rate.
Do you want to know more? Contact us! We will be more than happy to offer you the most suitable solution adapted to your business needs.