The emergence of the Internet in people's daily lives has turned our habits upside down when it comes to working, communicating or even shopping.
The growth of the e-commerce has exceeded all expectations and companies want to capitalize on this opportunity focused on an environment where users are increasingly demanding.
Providing to customers and prospects an effective and quick customer service has become the challenge to stand out from the competition.
The key to success lies in offering online, personalized and real-time attention to your website visitors.
One of the best ways to archive this is through a live chat, which allows customers to get in touch with your business and interact with a sales agent, just when they need to.
What is the Live Chat and how does it work?
The Live chat is a web-based service that allows your customers to communicate or "chat" in real time with a representative of your company.
Introducing a chat software on your website, will allow you to offer a customer service that meets the same quality standards that you would offer in a shop, as it increases the proximity between user and business, offering a better experience.
Things like providing immediate support to your customers and prospects, resolving their doubts, or even guiding them through the purchase process will not only increase their confidence, but it will also help you improve the conversion rate.
If you want to know the reasons why you should integrate a live chat into your site or ecommerce, please keep on reading this article.
What are the advantages of implementing a live chat on your website?
It is undeniable that live chat has become an essential tool when it comes to managing customer service and there are several reasons why you should think about integrating it into your website:
1. The customer satisfaction is improved
In the digital environment, consumers demand immediate attention to their concerns and requirements. Being accessible and providing relevant and useful information to help them resolve their doubts, will be essential and you will boost your customers satisfaction.
2. Increase your user's confidence
It is important for your customers to know that you are there, ready to serve them immediately and in a personalized way, just as they enjoyed in a store.
The human and close touch that provides this channel will help customers trust in your company.
3. Gain a competitive advantage
Integrating a live chat on your website to serve your customers productively when they need it, is a great opportunity to offer an outstanding service that will make you stand out from the competition
4. Free for your customers and profitable for your company
Unlike other customer's services, online chat avoids costs to your users as it is a free channel so this will encourage more customers to contact your company.
5. Manage multiple conversations
Despite other communication channels, live chat allows your agents to manage multiple simultaneous conversations without losing the quality of the service. This way you will attend to a greater number of customers by reducing the waiting time which will subsequently optimize the costs of the department.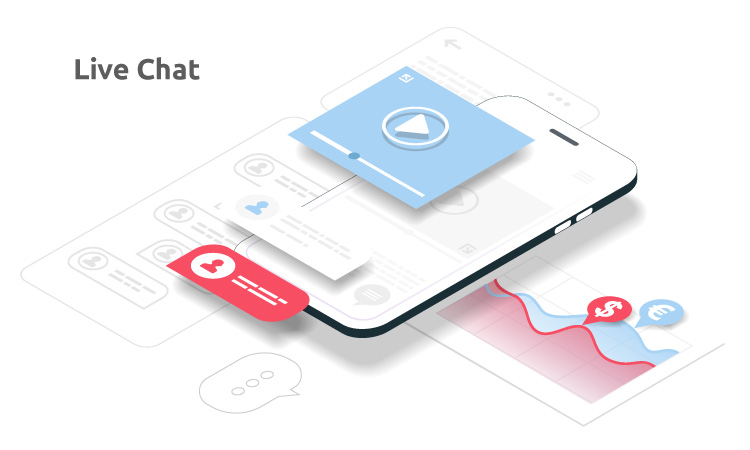 6. Boost the generation of leads
Having a live chat allows you to respond in real time to the concerns and doubts of your site visitors. If you prevent them from leaving the site when a handicap arises, your chances of capturing leads and their subsequent conversion to sale will be increased.
If you sell complex products, integrating a live chat in strategic points in your website will have a positive impact on your conversion rates as you will offer help resolving the doubts in real time, which will avoid any abandonments in the shopping cart.
8. Offer information in the suitable moment
Help your customers, only when they require it. By using triggers, you can offer help and make suggestions about products or services in situations of inactivity or abandonment, avoiding interrupting the process of purchase if not necessary.
9. Promote Cross-selling & Up-selling
Once the conversation with a customer has begun, your agents will have the opportunity to offer accessories or complementary products (cross-selling), or to suggest some other product of greater value (up-selling)
10. Increase the conversion rate
The assisted browsing functionality offered by some chat tools allows sales agents to share files, screen, or even, offer the customer the possibility to change the channel, (from video chat to phone) increasing this way the chances of conversion, from visit to lead and from lead to sale.
Why do you need a live chat software?
Offering a quality customer service increase both the user's satisfaction and the perception of the brand.
This could be translated into an increase in the capture of leads and their subsequent conversion into sales, therefore, it is important to have a good online chat tool, which facilitates the immediate contact with potential customers on your website or ecommerce.
If you have already decided to implement this channel on your website to interact with your visitors, remember to place it in a visible spot. In addition, it is essential that your sales agents respond quickly and fluently to the user's queries; In doing so, you will greatly reduce the bounce rate and abandonments.
How does Webphone help you?
Webphone, is a comprehensive adapted solution of chat, voice and video to the needs of your company.
The full functionalities provided by the Webphone's tool suite, turns it into a solution with enormous potential, with which you can provide your customers and prospects with the help they need and much more. ¡Find out about it!
Adapt the appearance to the look & feel of your company, set up messages in different languages or determine the service's opening hours.
Webphone, allows you to offer your customers the possibility of being contacted at another time when you are out of hours, that way, you will never leave customers unattended.
It makes your agents' work easier and prevents them from falling into routine tasks. Webphone, interact with your visitors through guided conversations that will allow you to give them previous information, relevant for them or derive the conversation with the right person.