In a year in which social distancing is the norm, users and companies have been forced to change their habits.
Throughout these pandemic months , remote sales have considerably increased  and with them the use of digital channels,  so important when it comes to bringing customers and companies together.
Among the different contact channels, video calling has become the perfect ally for those companies that want to maintain close communications with their customers.
Many businesses have already integrated click to video as another contact channel in their Customer Centric strategies, not only to  comply with health and safety regulations, but also because of its enormous potential when it comes to closing sales, especially those which involves complex operations or queries.
Advantages of adopting video calls as another sales channel
Sectors such as real estate, health, security, finance, insurance or training, among others, have made click to video their preferred channel due to the multiple advantages this communication system provides:
1. Improve the design and usability of your website
Video calls allow customers to resolve their doubts and make enquiries when they need them without moving about, offering also the possibility of watching an agent to interact. The possibility of receiving personalised and humane attention, despite the distance, increases customer's satisfaction and the perception of the level of service in a positive way
2. Generates commitment
Click to video promotes confidence and security in the customer throughout  the sailing and contracting processes,specially when it comes to complex services or those that require exchange of sensitive information. Humanising communications helps to create the required bonds of trust in some sales cycles.
3. Increases in the FCR rate
Unlike other communication channels, such as click to call or chat, the click to video increases the FCR (First contact rate)  since it allows the exchange of visual information, providing a differential value as well as facilitates the resolution of incidents and the provision of technical support.
4. Boosts sales
Click to video allows agents to give live product demonstrations and guide users through the most complex or tedious recruitment processes. The connection and proximity provided by video calls build customer's confidence and help sales managers reduce the buying cycles, identifying opportunities  in other to offer better products and services in a less intrusive way.
5. Reduces operative costs
Video calls help  solve the customers queries in a rapid way as they provide sales agents the ability for understanding an interacting with the user  better than other tools such as the telephone or chat. This is  translated into a significant reduction in the service times and costs. In addition, this communication system allows to  optimise the resources by enabling companies to provide this service via remote work.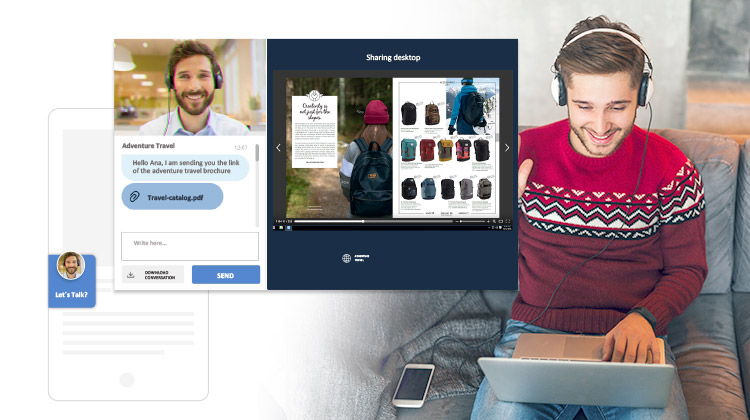 Webphone click to video solution
Who can integrate video calls as a support channel?
The video call has become an added value for any  company and sector as  provides communication besides  generating  trust and  boosts the  customer's satisfaction.
On the other hand, integrating a video tool into your business will become an excellent opportunity to boost your productivity saving time and operational costs .
Here are son examples of the benefits offered by the video call in different sectors:
Finances:
Interacting remotely with a manager, allows customers to speed up the completion of those procedures and steps that require personalised advice or validation of identity.
Actions such as opening an account, applying for a loan or carrying out operations for large sums can be carried out with a high level of confidence and security thanks to the virtual face to face that video calling offers.
Health:
Video consultations have become an essential tool today. This new assistance formula makes it easier for healthcare professionals to follow up on current treatments, to make reviews, to monitor the evolution of patients' health status or to resolve their doubts from afar, by saving health resources and time and travel for the patience, being essential when it comes to the elderly or people with reduced mobility.
Technical Support:
Integrating a  video call system, promotes the remotely solution of problems  in an effective and efficient way, minimizing response times and avoiding unnecessary trips from any technician.
Real State:
Offering tours of the house through a video call, allows potential buyers or tenants to visit the property without travelling. This way, they can get an initial idea or consider certain details.
Retail:
With video call solutions, sales agents can conduct live product demonstrations in order to  boost the sales. In addition, this communication channel significantly increases the level of satisfaction for customers, gains loyalty  and improves the brand perception. This solution allows sales managers to offer personal attention to customers rather than other communication channels, such as telephone or chat.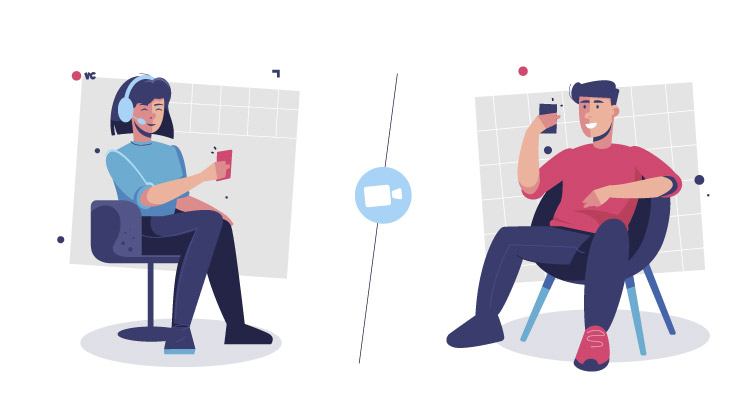 What should you consider before integrating a video call solution into your contact centre?
To successfully implement video calling as  another service channel within your omnichannel strategy, it is essential that customers can access the tool without any  complex equipment or applications.
In addition, it is  crucial that video calls are integrated with the different service channels in your contact platform.
Webphone offers a comprehensive voice/video/chat solution that makes it easy for customers and sales agents to change the channel when they need to, without starting a new conversation.
Thanks to the Co-Browsing functionality, the Webphone video call solution allows to  transfer files and share screens. This way, your agents could guide the user along  the more complex  processes or  those where  exchanging  documentation is required.
Webphone can also be easily integrated with the information systems and back-office processes you need to properly manage your leads. In addition, you will have statistics and outcome reports in real time that will allow you to make the most of your data.
As we have seen, regardless of the sector or type of company, the use of video calls opens up a whole world of possibilities that will allow us to improve the customer experience by generating loyalty and trust.
In short, the effectiveness of video call solutions regarding sales, support and loyalty strategies is more than evident, for that reason many businesses have already integrated the tool into their contact platforms.
If you want to be one of them, do not hesitate, visit our website and ask for more information.
We can help you! What are you waiting for? Call us!