Maintaining good communication with customers is vital for any company, and the use of the right channels is essential to achieve greater proximity with your public.
Placing the customer at the very centre of our business strategy means having to resort to a more personalised communication focused on the user profile. Therefore, when it comes to interacting with our buyers, we must bear in mind that we cannot focus on a single means of contact, as today's consumer is multichannel.
Although the current market offers us multiple options to achieve effective communication adapted to the audience's features we want to reach, in this article, we will focus on WhatsApp Business.
We will inform you how it operates and why you should include WhatsApp Business as another communication channel in your business.
Let's start!
What is WhatsApp Business?
WhatsApp Business is an application designed to facilitate instant, fluid and much more personalised communication between companies and their customers.
With more than 2 billion users worldwide, WhatsApp has become the messaging service par excellence in our daily lives.
Facebook has been searching for monetising the platform since its acquisition in 2014; thus, in 2017, WhatsApp Business was born with the aim of becoming a corporate communication channel, a reference for large companies, SMEs and freelancers.
Although at first glance it may seem that WhatsApp Business is not very different from the classic version , in this article we will see how the business version offers new advantages and functionalities.
Interested in WhatsApp as a customer service tool? Read on!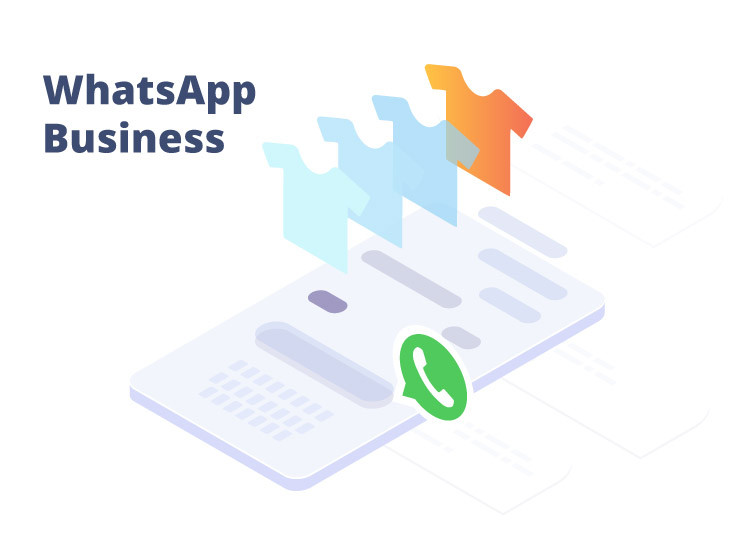 What features does WhatsApp Business offer?
The WhatsApp version for businesses has dozens of functionalities and features, for you to provide your customers with a fast and efficient customer service.
Let's take a look at them!
#1. Company profile:
Creating a company profile will allow you to show a more professional image and will help to build trust among users, who will find quickly and easily relevant information about your business (description, location, opening hours, website, social networks…)
#2. Auto Reply Messages:
Auto replies will be sent every time a conversation is started. By setting up a welcome message, your customers will be able to see that you are online. The same happens when you are out of business hours; an out of office message will inform you are not available at that moment, preventing this way, the feeling of being ignored.
#3. Message templates:
Use the quick reply feature to save time and resources; generate message's templates to quickly answer the questions your customers regularly ask, or send predefined messages, such as appointment reminders, delivery confirmations, order tracking, waiting times, etc.
#4. Catalogue:
WhatsApp Business offers the option to create a product's catalogue to enable your customers to access to the technical specifications, codes, images, prices, links to the website, etc. WhatsApp is also working on a payment system, which will soon allow purchases to be made from the platform itself, becoming an essential tool for increasing sales.
#5. Rich messaging:
WhatsApp Business solution allows you to send messages with rich text (links, emojis, images, videos, audio, locations, or PDF files) the same you can do with the classical version. Replacing static texts with dynamic content will attract the attention and help you improve conversion.
#6. Labels:
Organising and segmenting your contacts using tags will allow you to categorise and personalise conversations, according to the audience or the stage of the conversion funnel in which the user is.
#7. Analytics:
Statistics provided by the application will allow you to monitor the number of messages you send, read, or reply, as well as the clicks on links or even to know which contents provide more interactions. To obtain even more detailed and accurate results, you can combine all this information with the data provided by the tags.
As you can see, WhatsApp Business gives you the perfect tools to organise, automate and respond to your customers' messages in a quicker and efficient way.
Now you know its main features, do you want to know how to use it in your business?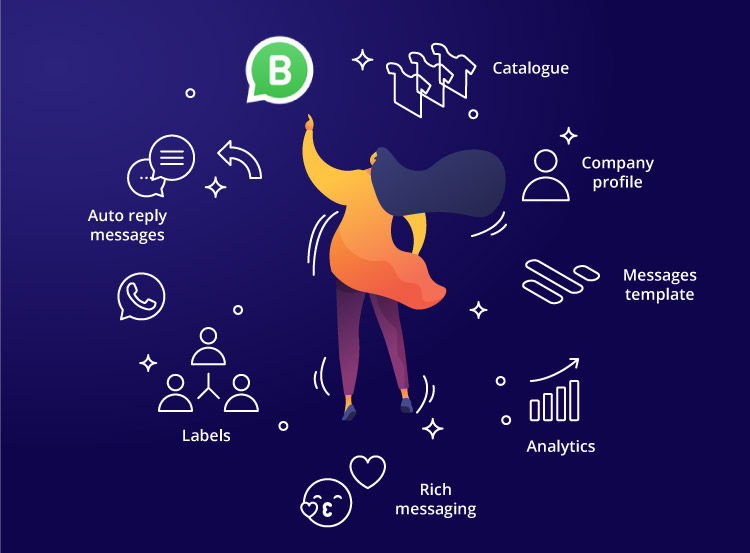 What is WhatsApp Business for?
Before proceeding, it is important to remark that WhatsApp is focusing its efforts on eliminating SPAM from the app; therefore, if you are considering using the tool, you should think of it as a method to offer a flawless customer service and never as a mass messaging channel.
If you have no doubts and want to see for yourself the advantages of using WhatsApp Business in your communications, here are some examples with excellent results:
• CUSTOMER SERVICE: WhatsApp Business allows you to improve your customers' experience by addressing their queries in real time.
• TECHNICAL SUPPORT: Thanks to the messaging application, you will be able to instantly resolve technical support tickets.
• APPOINTMENT REMINDERS: By sending a simple message, you will prevent your customers from forgetting the appointments they have scheduled with your business.
• BOOKINGS: Integrate your own chat bot in WhatsApp and automate the booking management of your business.
• ALERTS AND NOTIFICATIONS: By using WhatsApp, you can send your customers crucial information, such as incidents, shipment notifications, cancellations, etc.
• SATISFACTION SURVEYS: The information you receive from your customers will be your best ally when it comes to improving your service.
As you can see, WhatsApp Business can help you generate great communication experiences for your customers, in different situations and contexts.
But that's not all! Keep on reading because it's time to analyse the benefits this app brings to your business.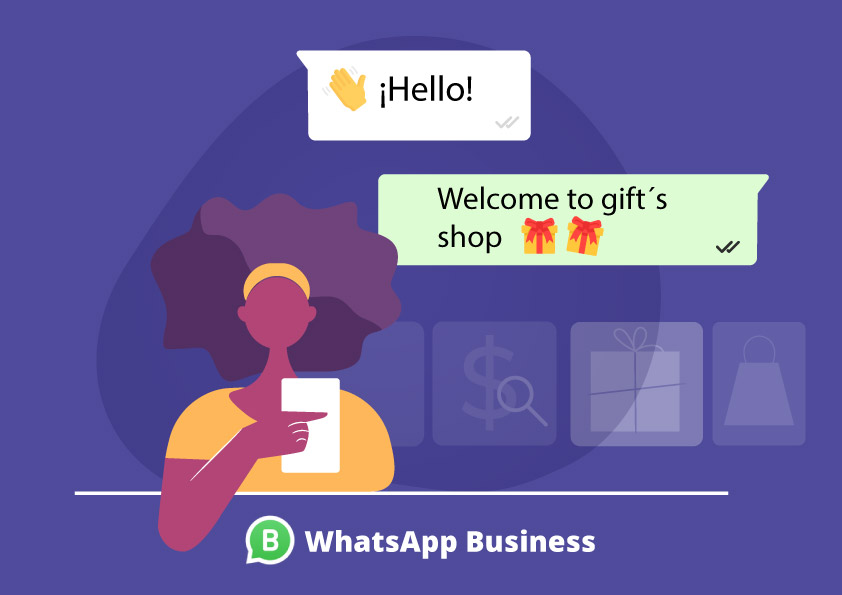 Advantages of using WhatsApp Business in your company.
One of the main benefits of using WhatsApp Business is that allows you to instantly interact with your customers. But the application offers many more advantages and possibilities:
1. Generates trust among users:
The possibility of creating a profile for your company on the platform will allow you to project a more professional image and provide your customers with information about your business.
2. Increases conversion:
Immediate responsiveness optimises communication with customers, making them feel satisfied and welcome.
3. More secure communications:
WhatsApp provides end-to-end encryption that protects sensitive data and ensures privacy.
4. Wide area and open rate:
In addition to being one of the most popular instant messaging tools among users, WhatsApp communications have an incredibly high open rate.
5. Positions your brand:
Your company's communications through WhatsApp will be much more direct and personalised, allowing you to increase customer satisfaction and improve brand recognition.
6. Increases productivity:
WhatsApp Business allows you to configure and automate the sending of different pre-set messages, which is a significant time saver; it also has a quick response function that greatly facilitates the work.
7. Added value:
The ability to add tags, segment users and create broadcast groups will help you send more personalised and precious messages to your customers.
8. Optimises your strategy:
built-in analytics dashboard allows you to monitor the impact of your communications to optimise your return on investment.
Now that you know the crucial arguments to use this messaging solution in your business, we explain how to integrate it into your strategy.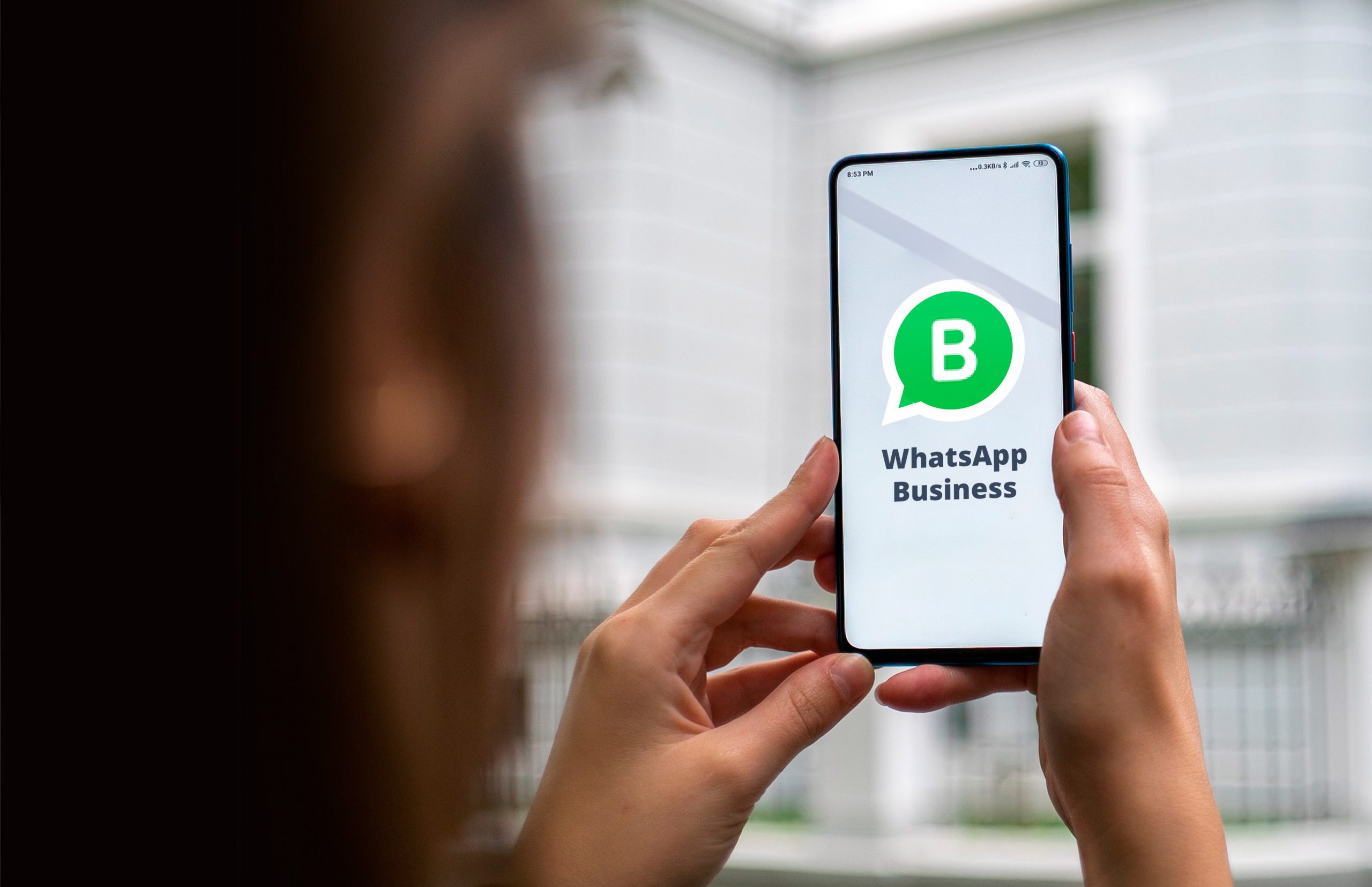 How to integrate WhatsApp Business
Although integrating a new contact channel can sometimes be complicated, more and more companies have deciding to include Whatsapp in their communication strategy with customers, due to the great potential offered by this technology.
There are two product options, designed specifically for businesses:
The first is the APP, which is suitable for small businesses and works in a very similar way to the classic version.
The second one is the WhatsApp Business API, suitable for businesses that handle a considerable volume of messages.
While the APP is free, the API is a paid solution, which in addition to the basic functionalities mentioned above, offers benefits such as the following:
• The account can be linked to a landline number.
• Trusted company profile verified by Whatsapp.
• Multi-agent and multi-device.
• Automatic conversation assignment.
• Can be integrated with other services and platforms.
• Versatile and highly customisable.
• Allows the creation of chatbots.
• Centralises all conversations with your customers in a single number.
Please note that you can only access this solution through an official partner.
To summarise what we have seen so far, Whatsapp Business allows businesses to interact with their customers, creating exceptional communication experiences through a channel they are already familiar with.
If you are looking to minimise friction points during the buying process and improve customer service to increase your sales, Whatsapp Business is your best option.
As an official provider, we can help you with the process of requesting access to the API and its subsequent integration into your marketing and communication plan.
Do you want to start using Whatsapp business?
Don't wait any longer to discover our solution, call us!