How to turn every interaction with your customers 

into success
StubHub reinvented the formula of buying tickets for sporting events, concerts, theatre plays and other events, connecting buyers and sellers in more than 45 countries among Europe, America, Asia and Oceania.
Improving the shopping experience by offering a customer a service solution, focused on the user.
To improve sales by increasing the retention rate and the customers confidence.
Stubhub is focusing efforts on improving the customer experience, taking full care of the details to achieve lasting and fruitful relationships.
To do this, they have trusted Webphone, since it provides them with the required tools to manage and handle the relationship with the customer, from the first contact to the end of the sales process.
Activities such as offering relevant content, guiding the customer along certain processes, enabling instant contact through the channel they choose or cultivating the relationship with users in order to build loyalty and new opportunities, will help us to archive our goal: to exceed customer expectations and drive sales.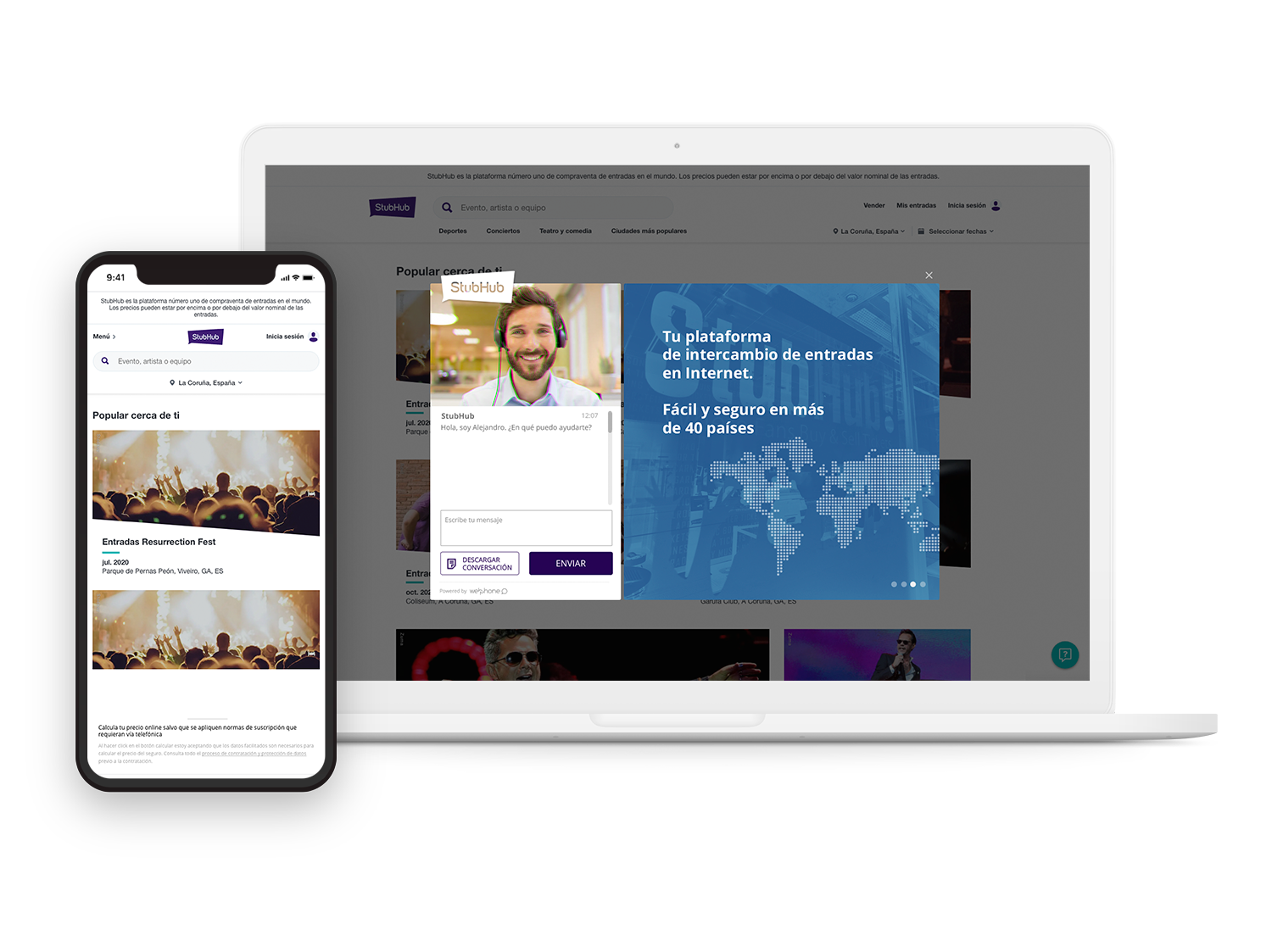 Brand perception improved and customer satisfaction and loyalty boosted.
One of StubHub's greatest challenges is to build trusting relationships with customers to better understand their needs.
In order to get this, they must not only offer a good service, but an unbeatable user experience, which allows them to stand out from the competition to attract more customers.
Turning data into knowledge is the base to get started. Knowing the customer, knowing what they want and how they want is essential to meet their expectations and consequently, increase their satisfaction.
Webphone provides all the information required by StubHub to know and analyze the behaviour of their customers, from accessing to the web, products of their interest, to the final purchase. This way they can detect any weaknesses in order to help optimize the marketing strategy.
In addition, our instant communication service allows the company to interact with its customers in real time.
Consumers do not want to wait, so providing a quick and effective response is essential if Stubhub wants to satisfy them during the search and purchase process. In this sense, Webphone's omni-channel solutions are shown as a perfect ally.