This year more than ever the Black Friday, Cyber Monday and Christmas campaigns will be essential to boost sales, as they will be the last chance for many business affected by the economic crisis caused by the COVID-19 to save the year.
Due to the restrictions caused by the pandemic, the 2020 campaigns will be more digital than in previous years.
The lock-down and restrictions have subsequently meant a change in our habits and routines, which have been reflected in a significant increase in the online sales.
Users are now more familiar with digital media and take advantage of these special dates to find promotions and discounts on products or services of their interest .
Although this represents an unique opportunity for companies to boost their sales in this last quarter of the year, it also means that the competition is increasing and it is even more complicated to make our brand to stands out.
In recent months, many businesses have been forced to accelerate their digital transformation processes to adapt to the changes. Only those with a good marketing strategy and optimized conversion to sales protocols will be guaranteed success.
If you are thinking about how to get the most out of your business and make your Black Friday campaigns stand out from the competition, take note of some of the best tips to keep in mind during these dates.
Effective Marketing Strategies for Black Friday
The famous Black Friday is an ideal time to achieve visibility, attract potential customers and increase your sales. We tell you how!
Do not wait for the Black Friday to communicate with your customers and prospects.
Most buyers have in mind what they want to buy before that expected day arrives, so it is essential that you go ahead and tell them about the promotions and discounts you are developing.
You can use your database to launch email marketing campaigns by informing customers and prospects of the great deals ahead. Remember that segmenting your audience according to their interests, will allow you to offer relevant information about those products of their interest increasing this way your options of selling.
Taking advantage of the power of social networks to interact with your buyers is also a great idea, because Facebook or Instagram are perfect showcases to visualize the promotions you have prepared for your products and services.
For your deliveries, create an original and attractive text and do not forget to add a link to promote the products you want.
Another option that provides positive outcomes, due to its high open rate, is to send a mass SMS campaign.
Sending an SMS is also the best way to encourage your customers to complete their purchases before their cart products expire. They also allow you to send reminders informing about an offer to end, getting last minute sales.
The rivalry on The Black Friday and the Cyber Monday is very disputed.
A good way to generate interest and curiosity is to gradually reveal the offers and promotions your customers will be able to access that day (discounts, free shipping, limited promotions, payment facilities, exclusive offers for members, discount coupons for upcoming purchases…) This way, you will get your prospects to know about your products and service's catalog to plan their purchases in advance.
Inserting a countdown on your site, located in a place with good visibility, is a very effective way to increase conversion, as it will help you create expectations and keep your customers attentive to the super deals offering by your business on the Black Friday and Cyber Monday.
During the Black Friday and Cyber Monday, the customers anxiety is triggered due to the proximity of Christmas. If you want to reach new customers during these important business dates, it is essential to strengthen your social media with ads campaigns.
Investing in campaigns on Google Ads, Facebook or Instagram will make your products and services more visible. Keep in mind that the competition in this type of campaigns during these dates will be very aggressive, so it is essential to increase your budget to stand out and attract more traffic. In addition, you will boost your business opportunities by creating ads focused on specific audiences.
When creating your ads, pay special attention to the creativity. Highlight the discounts so that they have more impact and add images alluded to such a longed-for day. Including keywords (savings, limited time, offer, without commitment, opportunity …) will make your ads more effective.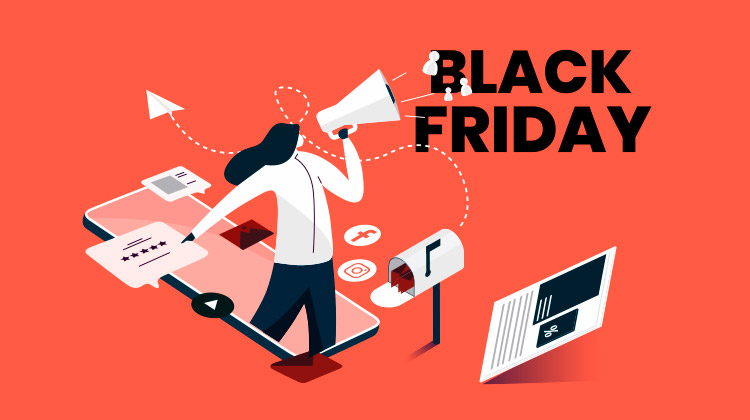 With the arrival of the Black Friday, you have a golden opportunity to attract an audience prone to buy.
Remarketing campaigns will help you renew the interest of users who have already visited your website. Offer your customers discounts to encourage them to buy those products that attracted their curiosity at some point or those they left abandoned in the cart.
It is important to create dynamic and personalized landing pages, with designs alluding to these specific dates where promotions stand out.
Your landings must contain forms, click to call buttons or any other element that invites users to leave their details or help them directly contact a sales agent to access the offer.
It would be an excellent idea to keep your landing after the Black Friday or The Cyber Monday. This way, you will be able to generate SEO throughout the year. To stay on top, make sure you offer valuable and relevant content to your users.
Nowadays online marketing is particularly important, so it is essential to have a good hosting and a highly optimized professional design, which guarantees your site to withstand high traffic demands and a speed rate when loading.
In addition, offering your customers a good browsing experience which facilitates the purchase in a few clicks or having security certificates and reliable payment gateways, will help you avoid abandonment and generates confidence among the customers boosting your sales.
Cross Selling y Up selling
On Black Friday and Cyber Monday shoppers go crazy looking for bargains, so it seems to be the perfect moment to increase your income by offering similar or complementary products to those they have shown interest in.
Offering your customers the possibility to contact your sales agents through the channel of their preference, will bring excellent results to your business.
An effective multi-channel contact strategy will help you connect with your users at the right time. Tools such as click to call, live chat or video chat, will increase your sales opportunities and customer satisfaction.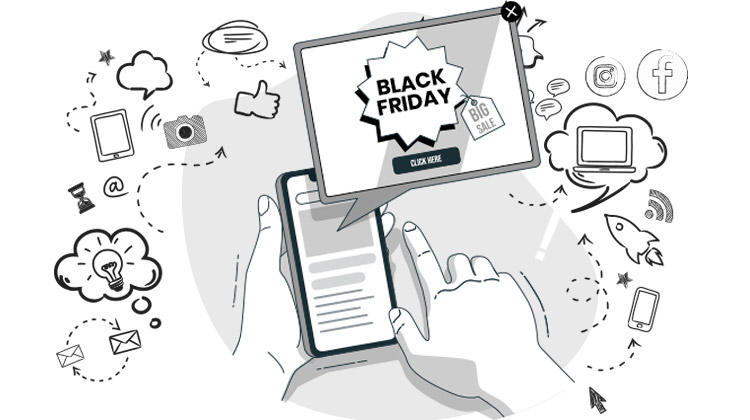 Black Friday and Cyber Monday are just around the corner. If you want to make the most of these long-awaited dates, you will need a good marketing plan to help you attract more visitors and increase sales.
To achieve your goal, it is essential to have a technological platform that integrates marketing and sales processes. These types of lead management platforms will allow you to improve the efficiency of your marketing actions and save costs, as they facilitate certain tasks to be automatic.
In addition, you can track in real time the life cycle of your leads, from the first contact until the closing of the sale and access to different reports and statistics that will help you gain intelligence about your business and users.
Webphone, is the lead management platform you need if you want to compete in online environments. You will find it be worthwhile as it would help you to boost your business.
If you are thinking of creating an effective Black Friday marketing campaign, contact us.
We will help you!