It is crucial how we communicate with customers and prospects to success in business. That turns our customer service into a key department.
Since most of the interactions between consumers and your brand will be carried out through this department, it is important to focus efforts on providing it with the necessary tools for an efficient and satisfactory operation for the user.
A virtual switchboard will allow you to meet the needs of your company in this regard. Today we will tell you the advantages these communication platforms can bring to your company.
Don't miss it!
What is a virtual switchboard?
Also known as cloud switchboard, a virtual switchboard is a VoIP- based communications system.
While traditional telephone systems transform sound waves into electrical signals that are sent through networks and cables, virtual systems convert voice into data packets transmitted via internet protocols.
The main characteristic of virtual switchboards is that they are hosted in the cloud, allowing phone calls and data to be managed without any physical equipment or telephone lines from any location in the world.
This peculiarity turns the cloud switchboards into a versatile and efficient resource for companies, and for that reason many are migrating their telephony services to VoIP.
If you want to know other advantages that the virtual Switchboards can offer over the traditional systems, please keep on reading!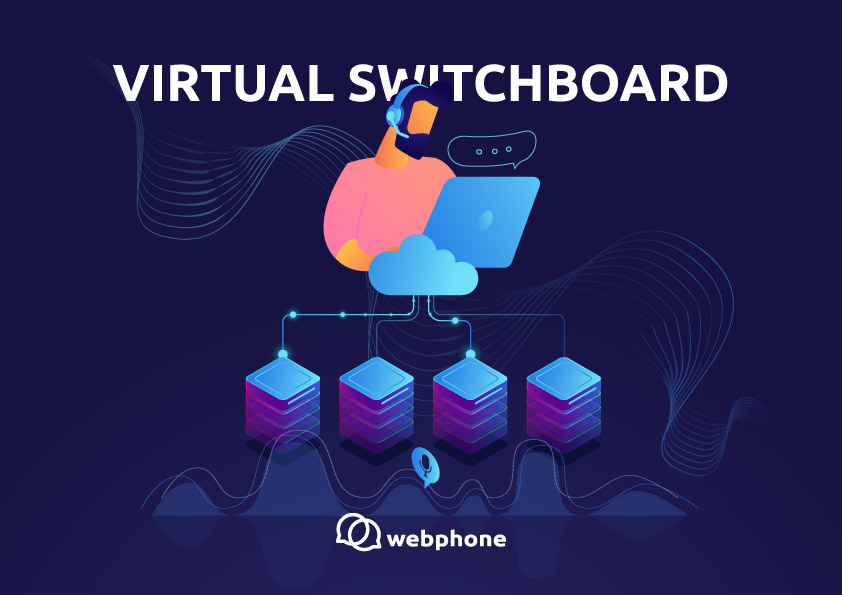 Why should you hire a virtual switchboard?
A phone call gives immediacy, proximity, quick problem resolution and human interaction; all these characteristics turn the phone customer service into the preferred one for customers.
Most companies therefore have assimilated that in order to provide the best service, it is essential to have a good call handling service that guarantees effective and satisfactory communication.
In this sense, virtual switchboards have become an essential tool for both internal and external business communications, helping to develop adapted methods to the new reality such as the teleworking.
In addition, cloud switchboards provide other benefits that will highly improve the quality of the service given to your customers.
Here are some of them:
#1. Cost reduction:
Unlike physical switchboards which require a high initial investment for their acquisition and installation, a virtual switchboard is much more economical.
As it is hosted on the provider's servers, the responsible for its configuration, maintenance and correct operation is the providers themselves. The only requirement to access is an Internet connection, avoiding purchasing any equipment or contracting telephone lines.
In addition, the cost of VoIP calls is significantly lower than the traditional telephony.
#2. Customisable and scalable:
One of the greatest advantages of the Cloud Switchboards is the customisation as they have a lot of functionalities you could select according to your business requirements.
Cloud telephony is in addition incredibly flexible and scalable. It is easily adapted to any structure change (peaks workload, employee's availability, change of location) and resize resources to offer a better service as your company's needs change.
#3. Geographical flexibility:
The virtual switchboard works in the cloud, therefore If you have an Internet connection, it is possible to access from anywhere. This allows you to have headquarters and remote workstations located in different regions and countries, without having to install a physical switchboard in each of them.
#4. Availability of multiple numbers:
Virtual telephony systems allow you to add different geographic numbers. Having local or international numbers will allow you to offer your customers a greater sense of proximity, even if your business does not have physical headquarters.
#5. Advanced Functionalities:
Cloud Switchboards can offer a wide range of functionalities that anyone can handle with just a few clicks, as no technical skills are required.
Among the most useful ones we can find: Voice interactive response, call transfer and call forwarding, recordings, music on hold, call reception by queues or agents, customisable messages, or statistics panels.
#6. Boost the customers satisfaction:
Installing a virtual switchboard will help you improve the telephone management of your business and in addition, your customer service.
The high capacity for simultaneous calls that cloud switchboard allows, will prevent users from finding the line busy. IP telephony allows a smart routing to the appropriate extension or agent, which will greatly improve the experience of your customers.
On the other hand, virtual systems allow the configuration of customised messages, voicemail or call forwarding. This way you can offer an alternative to your customers when you are busy or out of hours, making them always feel correctly attended.
#7. Performance improved:
As we mentioned in the previous point, the call queuing and intelligent routing may increase both customer satisfaction and will allow you to distribute efficiently the workload.
Virtual switchboards offer additionally a control panel that enables to obtain reports and statistics with relevant data about the management of your business.
Knowing at any moment things like how many incoming and outgoing calls are generated, how long they last, who answers them, waiting and response time, or the rate of lost calls, will help you to continuously monitor the activity of your teams to easily identify the difficulties or heighten resources when necessary.
#8. Integrations via API:
Cloud Switchboards allow integration via API with multiple applications and tools, so that you can make the most of your company's resources and consolidate your communication processes.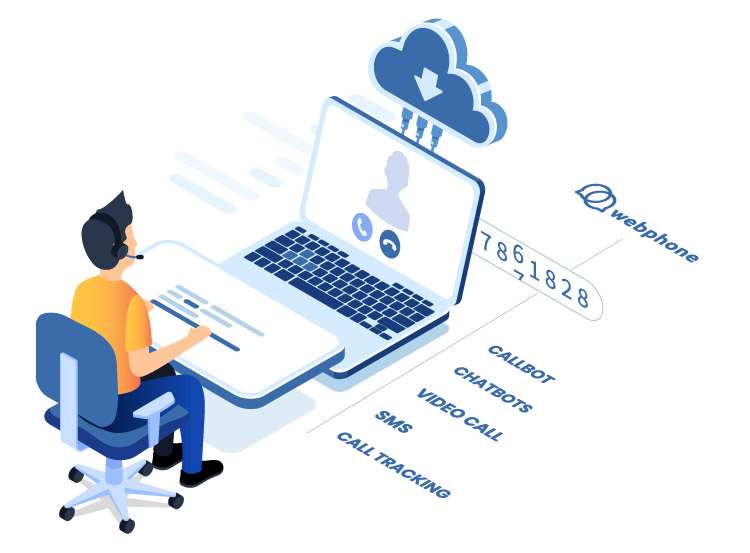 How can Webphone help you?
Today, most companies interact with their customers using technology connected to the internet, either through their website or through social media.
As we saw in the previous section, virtual switchboards allow you to easily integrate other tools. Thus, you can add services such as chat, click to call, video call, SMS, or email to the traditional phone calls, so common nowadays that turns crucial to be present in your business as well.
Webphone is a lead management platform that allows you to handle and measure communications through multiple channels. By integrating Webphone with your virtual switchboard you can for example, insert a Click to call button on your website to conduct the calls coming from or routing them according to a different criterion to the right agent or department.
You can also access to live chat solutions, video calls, automatic SMS sending or conversational chatbots. In case you need phone numbers for your company, we have options from more than 100 countries with a call tracking service, so you can monitor them all correctly.
Integration with Webphone also allows you to automatically manage the outbound of the missed calls or to schedule them when customers have chosen a specific day and hour to be contacted.
On the other hand, with the CTI/Webphone integration, you will be able to show to your agents through the CRM a card with the customer's data preloaded when they precisely contact your company through any of the available channels (chat, click to call, phone, mail, …).
Another big advantage of the integration with Webphone is the possibility of accessing reports that combine the data received from all your channels with the results obtained by your call centre (for example sale/no sale or problem solved/ pending) This way the efficiency of the processes and the productivity of your business turns easy to be measured or multiplied.
It is crucial to provide a fluid, quick and efficient communication both with customers and internally to compete in the business word and archive success.
Having a virtual switchboard will provide an agile and robust communication system to your business that will help you reduce expenses. If in addition you are looking for an easy management, efficient and versatile solutions uncomplicated to implement, Webphone is your best ally.
You will be able to access with Webphone to functionalities and tools like click to call, chat, numbering, video call, call tracking, call routing or analytic panels to call scheduling, among others. In case you do not already have a switchboard in your business, don't worry we can take care of it as well.